CISSA Group changed its investment property sales strategy and established CISSA Agent House, the IP sales agent development center, to expand its stable marketing channels. If it is successful, the Group aims to expand to other brands of property.  
Mr. Autthanop Pandkamnerd, the Chief Executive Officer of Cissa Group Company Limited, Thailand's leading Investment Property developer, revealed that Thailand's property market currently had the higher growth rate of price, compared to the past. The majority of investors invested in real estate intends to purchase it for investment purposes because it can generate a fairly certain return and can be resold to receive the profit from the difference of the increasing price. Therefore, the ownership of investment property has attracted the attention of both Thai and foreign investors due to the low risk compared to other types of investments.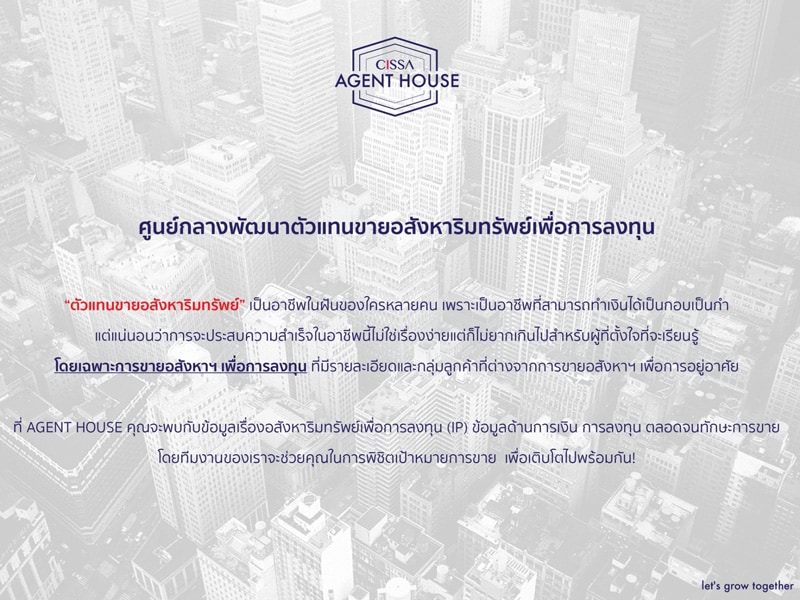 Cissa Group as a developer of investment property intends to support the real estate investment model to be strong and access to the market as much as possible. As a result, the Company established Cissa Agent House to provide information on investment property (IP), finance, investment, and sales skills. Our team will help sales agents achieve the goals of sales and grow together
"Property Sales Agent" is the dream career of many people because it can generate a large amount of income. Of course, to be successful in this career is not easy but it is not too difficult for those who focus on learning, especially investment property. Investment property has details and customer groups that are different from the sales of residential property. If the project is successful, it will expand to other brands of property.", said Mr. Autthanop. 
Cissa Group is a sales channel. To build marketing and sales partners with CO-AGENT, Cissa Group intends to provide investors with investment options to meet the cost-effective, stable and certain investment.
The Company recruits and sign contracts with CO-AGENT. Any company which is interested in selling investment property can participate in the training. The training period is divided into 2 phases, Investment Property & Project Introduction and Sales Tactic & Plan.
For CO-AGENT signing a contract as a sales agent with the Company, they will receive additional rights and benefits other than the commissions provided by the Company, such as investment training courses from leading institutions, domestic and international study tour, welcoming events for business expansion, etc. Interested parties can contact AGENT HOUSE Section directly at 091-229-4069, E-mail: [email protected], Line @cissagroup.